Vincent A. Errante, Jr.
Of Counsel
Vincent is a founding partner of Darger Errante Yavitz & Blau LLP. Vincent was previously a founding partner of Darger & Errante LLP. His practice includes the defense of complex product liability, toxic tort, premises liability, and personal injury claims, including asbestos, lead and mold. Vincent also defends complex product liability claims against pharmaceutical companies and manufacturers of medical devices. Vincent's business litigation practice includes representing his clients in property damage, construction, and financial fraud cases.

Vincent has significant experience in the management of mass tort claims. He has represented numerous companies ranging from manufacturers and distributors to retailers of asbestos containing products and equipment. Vincent has substantial trial experience on behalf of these companies throughout the country. In his role as National Coordinating Counsel for several large publicly traded companies, he has substantial experience working with and developing experts in medical and other scientific specialties.

Vincent has been recognized by Super Lawyers® in the areas of mass tort, class action and products personal injury litigation.

Insights & News
"Putative Fathers and Ganim v. Roberts, A Fundamental Right?" 3 Connecticut Probate Law Journal 417, 1988

"Liability of Bar Owners in North Dakota," Bureau of Business and Economic Research, February 1993
Experience
2011 - Darger Errante Yavitz & Blau (partner)

2002 - Darger & Errante (partner)

2000 - Hanly & Conroy (partner)

1991 - Danaher Tedford Lagnese & Neal (partner)

1990 - Associate Professor of Business Law, University of North Dakota

1989 - Lynch Traub Keefe & Errante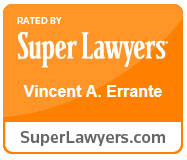 Education
J.D., Quinnipiac University

B.B.A., Hofstra University
Court Admissions
New York

Connecticut

District of Columbia

US District Court, Southern District of New York

US District Court, Eastern District of New York

US District Court, District of Connecticut
Affiliations
American Bar Association

New York State Bar Association

New York City Bar Association

Connecticut Bar Association

District of Columbia Bar

Defense Research Institute